Corner Canyon guard Max Toombs drives during the Chargers 88-63 win over Bisho Walsh (Md.) in the Utah County 5 For The Fight National Hoopfest Wednesday, Nov. 23, 2022 at Pleasant Grove High School. (Sean Walker, KSL.com)
Estimated reading time: 4-5 minutes
PLEASANT GROVE – Corner Canyon Sr. Max Toombs felt it in two games at the 5 For The Fight National Hoopfest.
Toombs dropped 44 points to go along with three assists as the Chargers earned an 88-63 win over Maryland's Bishop Walsh in their second 10-team invitational game Wednesday afternoon at Pleasant Grove High.
The 6-foot-2 senior with three years of varsity experience was unconscious from the field, shooting 14-of-26 from the field and 8-of-14 from 3-point range to go along with three assists and a pair of rebounds.
"Last game I went 2 for 7, so I had to do a little bit better today. I think 8 for 14 is better," Toombs said. "The flow was moving towards me, and it depends on the flow."
If you don't know Toombs' name yet, you'll know soon enough.
Toombs had a career-high 17 points at halftime, backed up by 7-of-7 made from the free throw line and a pair of 3-pointers to lead the Chargers. The senior guard shot 4-of-10 from the field through a stingy defense that allowed him a pair of cuts on his shooting arm that he recorded at halftime.
But Corner Canyon was also added by defense, holding Bishop Walsh to just 30% shooting before halftime. Toombs hit a 3-pointer 35 seconds into the second half, and the Chargers continued to pull away.
"We always like to play aggressive defense," Toombs said. "We believe defense leads to attack, and we succeeded both nights.
"I think we've shown that we can play anyone. We have a really good chance of winning the state championship, I think. Obviously we have some things to work on, but if we can keep working like we have, I think we'll be fine."
Corner Canyon has certainly announced its intentions in a big way.
That may have come as a surprise, perhaps, to everyone except the Chargers. Corner Canyon has been competing against programs like Bishop Walsh all summer, ever since their 43-39 loss to American Fork in the 6A championship last March.
"We played this kind of schedule all summer and all fall," said Corner Canyon coach Dan Lunt, who improved to 105-53 with the Chargers. "We've played the Arizona Compass and all these teams; it's just something that gives our kids confidence: that we can play anyone and we can beat anyone. At the same time, we have to play the game right and our kids have made the right things".
In the invitational finish, Corner Canyon led by all but 32 seconds, including 16 seconds by Bishop Walsh. The Chargers simply dominated from start to finish, outscoring the Spartans 52-28 as Brody Kozlowski had 11 points, 19 rebounds, three assists and three blocked shots for Corner Canyon.
Jaxon Roberts added 10 points and six assists, and Taylor Feroah had 10 points and 10 rebounds for the Chargers, who improved to 2-0 on the season.
"Everyone contributed," Lunt said. "Kallen Lewis hit three 3s, and every one of them was huge."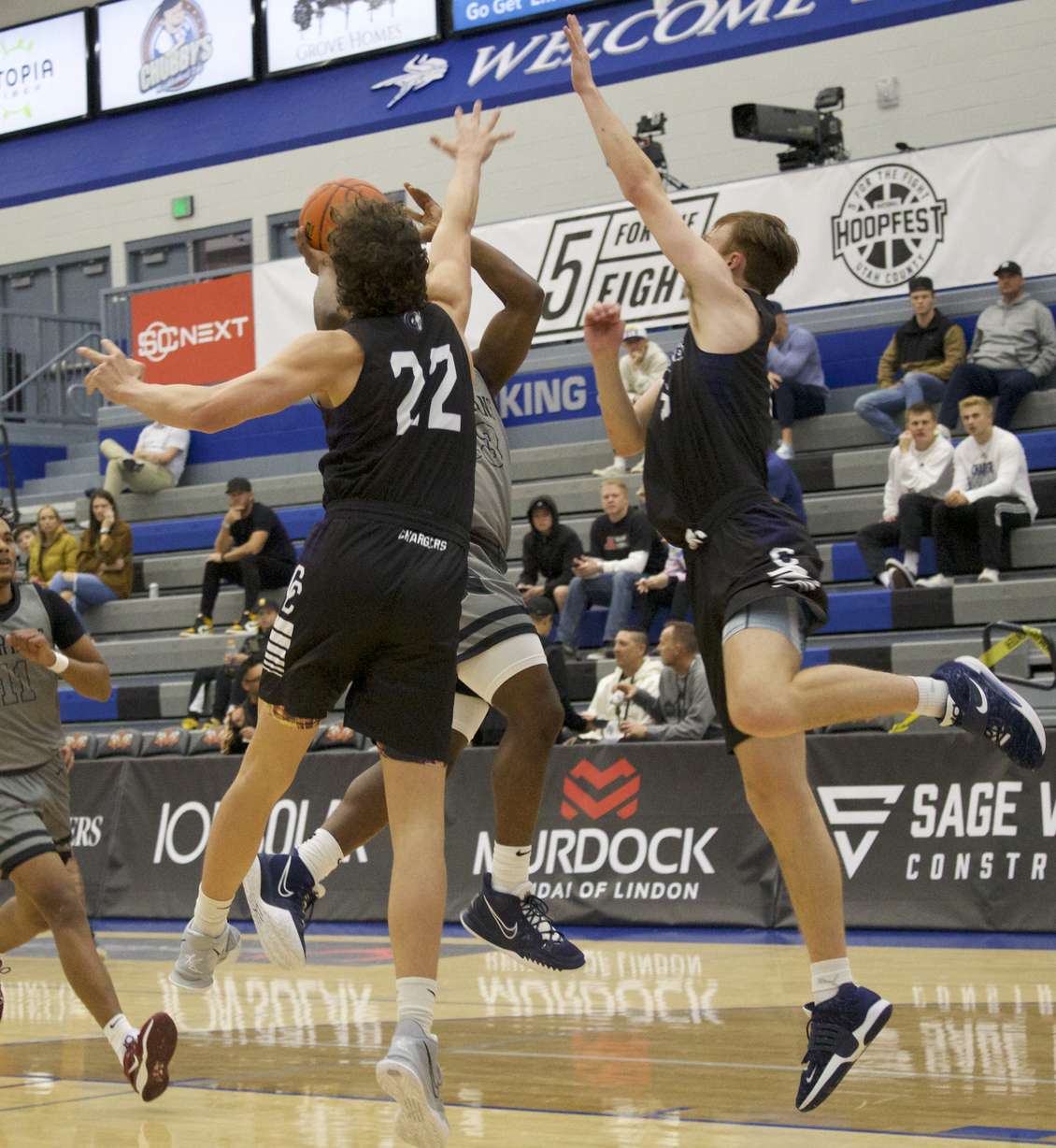 Corner Canyon (2-0) wasn't the only team that exploded during the season-opening National Hoopfest in Utah County. Wasatch Academy also went 2-0 in the invitational, and Tiger Cuff led American Fork with 13 points on 3-of-4 shooting from deep in a 56-55 upset of Sunrise Christian (Kansas) before a loss to the Tigers.
But starting the Chargers' second game was Toombs' show after shooting just 2-of-7 from 3-point range in an 87-51 win over Bingham in Tuesday's opener. The senior with mostly junior college offerings like Umpqua Community College in Roseburg, Oregon, finished with 26 points Tuesday, but was on another level the next day.
"We can hang with most of these guys," Toombs said. "Once we get our name out there and show college coaches we can hang with these guys, I think we'll be seen more.
"I think I have DI talent…if I can become more of a guard who can score more than 6-10 people, I think I'll be fine. I think I have a DI body, my shooting is very good and I think I'm good to see the floor."
The pre-Thanksgiving tournament, then, was important, not only for a group of Corner Canyon students aspiring to play at the next level, but also for the Chargers to open the season on a high note.
But it's still just the beginning.
"It's a good indicator for us to see where we are," Lunt said. "We still have a lot of work to do, but it's a good start."
5 For the National Fight Hoopfest
Pleasant Grove High School
Tuesday's results, best player
Corner Canyon 87, Bingham 51 (CC: Jaxon Roberts 22 points, 6 assists; BHS: Brayden Whitehead 15 points, 6 rebounds)
Wasatch Academy 63, Bishop Walsh 50 (WA: Jeremiah Johson 13 points, 4 assists; BW: Emmanuel Okitondo 17 points, 10 rebounds)
AZ Compass Prep 65, Montverde Academy 54 (AZ: Rayvon Griffith 12 points, 5 rebounds; MA: Liam McNeely 13 points)
American Fork 56, Sunrise Christian 55 (AF: Tiger Cuff 13 points, 2 assists; SCA: Mikel Brown 15 points, 5 assists)
Cyrus 58, Pleasant Grove 49 (CYP: Quentin Meza 23 points, 6 assists; PG: Isaac Garrett 16 points, 5 rebounds)
Wednesday's results, top players
RSL 76 Academy, Bingham 51 (RSL: David Katoa 15 points, 5 rebounds, 5 assists; BHS: Brayden Whitehead 19 points, 6 rebounds)
Corner Canyon 88, Bishop Walsh 63 (CC: Max Toombs 44 points, 3 assists; BW: Mike Williams III 18 points, 5 rebounds, 4 assists)
Wasatch Academy 69, American Fork 64 (WA: Jeremiah Johnson 18 points, 3 assists; AF: Aaron Dunne 18 points, 6 rebounds, 5 assists)
AZ Compass Prep 53, Sunrise Christian 47 (AZ: Jordan Ross 10 points, 3 rebounds, 3 assists; SCA: Mikel Brown 12 points)
Montverde Academy 85, Pleasant Grove 42 (MA: Kwame Evans 17 points, 4 rebounds; PG: Isaac Garrett 14 points, 3 rebounds)
×
Photos
The latest High School Sports stories
Other stories that may interest you